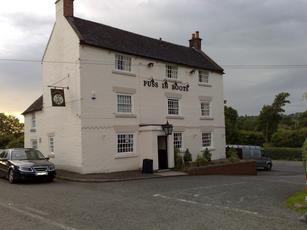 RUN #252
Date: Monday 16th June
2014
Location: Puss in Boots, Duffield (DE56 4AQ)
Hare
: Trianal
Weather: Warm and dry
Pack size: About 15
Every now and then we have a hash trail that sticks in the memory. This was one such hash. The hare (Trianal) introduced the trail to the hounds as 'Plan B' - 'Plan A' recced several days before proved impassable and impracticable because of poorly used and lost footpaths. We were warned that today's trail had a disappointing end because whilst setting the trail the hare had felt it had got long enough and had decided just to head back down the road. The omens were not good when the hare is making such excuses before the run has started!
The hare was correct, it was long (over six miles). This, along with the hills and few checks, meant this was very much a runners run and much to the liking of a Butcher's Dog who we briefly saw at the start. We came across interesting paths not hashed on before, including those that were indeed not public footpaths, a fact pointed out to us by the land owners. The lack of recce time by the hare for Plan B clearly showed, and it was left to the hounds to find the correct route rather than 'legging it' down a private driveway. Only Butcher's Dog had the stealth and speed to manage this.
At one point the trail joined the route of the ongoing Duffield 5 km race, except we were going in the opposite direction. I was told 42 times that I was going the wrong way. Being Derbyshire we encountered numerous sheep, a high density flock having been recently gathered and shorn. The flour was widely spaced on long stretches of trail without checks. When checks were encountered, long false trails had to be run. It was after one of these - a long descent into Duffield - I found myself going from the front to the back of the pack and even behind fast walking Seaman Stains. He bravely persisted with the entire trail arriving back at the ON INN at 21:30, long after many of the tired hashers had gone home.
Hot Air had decided to come running with hash rather than with her local athletics club. Good choice - she certainly got in plenty of running today plus the socialising one gets with a hash. We had a couple of newcomers from Leicester but alas by the time we got back to the pub they had to leave to catch a train home. There was no formal circle but Dobber did buy Trianal a drink for his effort as hare and also one for Seaman Stains as the last hound standing.
That's the way I saw it..
Durex